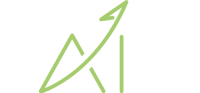 ADAPTEZ AUTOMATIQUEMENT LA CONCEPTION DE VOTRE MODÈLE DE DEEP LEARNING
Intégrez vos contraintes métier et opérationnelles dans la conception de vos modèles
Générez des variantes de modèles grâce à RAISE et sa technologie de Deep Neuroévolution
Sélectionnez le modèle le plus adapté à votre usage
Adaptez automatiquement votre modèle à l'évolution des données
Utilisez RAISE dans bien d'autres cas d'usage: contrôle des biais, ensembling, apprentissage distribué…
Pour les utilisateurs ingénieurs en IA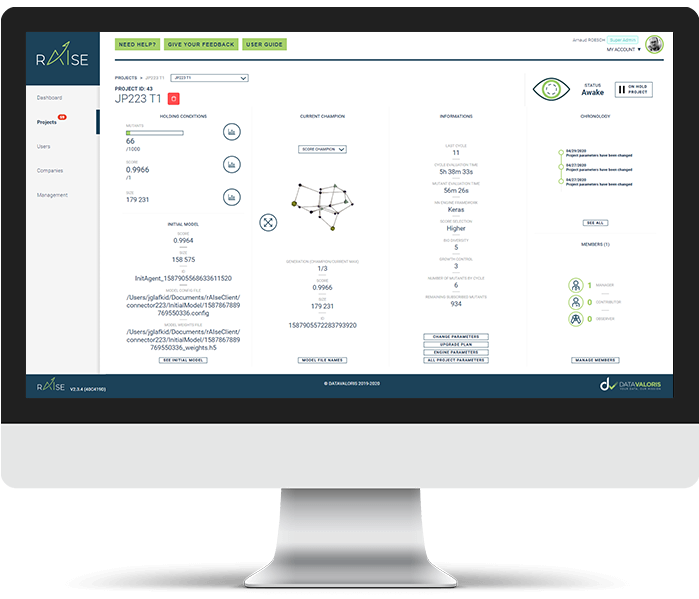 Create models that auto-adapt to changing reference data (DataDrift handling)
Optimize any existing AI deep learning model (For IOT...)
Allows Data Scientist to focus on modeling the business problem rather than focusing on technical prowess 
Process can keep data confidential and work on spread sources 
Compatible with most market frameworks (Tensor Flow, Pytorch...)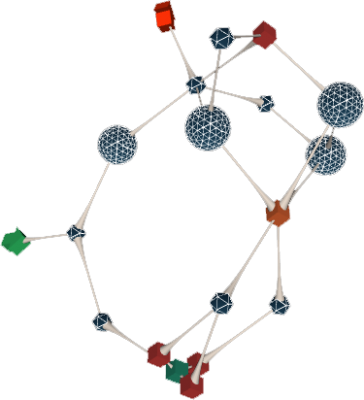 robust and resilient AI models
Obtain robust and resilient AI models thanks to RAISE and its native, configurable scoring, based on the competition of models
designed to meet business challenges
Towards the 1st AI model for your business
For companies wishing to have an AI model, the RAISE platform automatically and easily generates an artificial intelligence architecture customized according to your business needs and your data.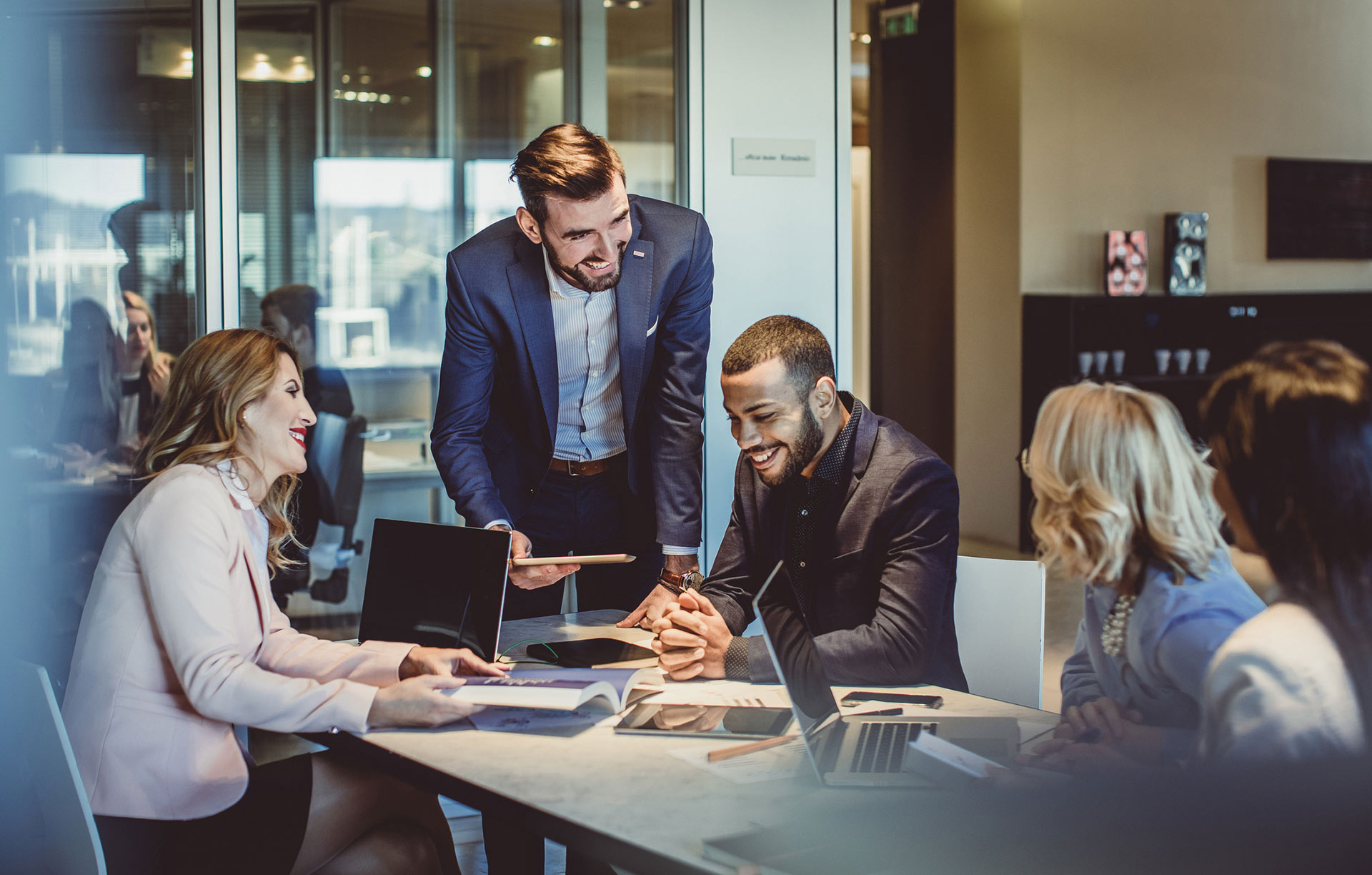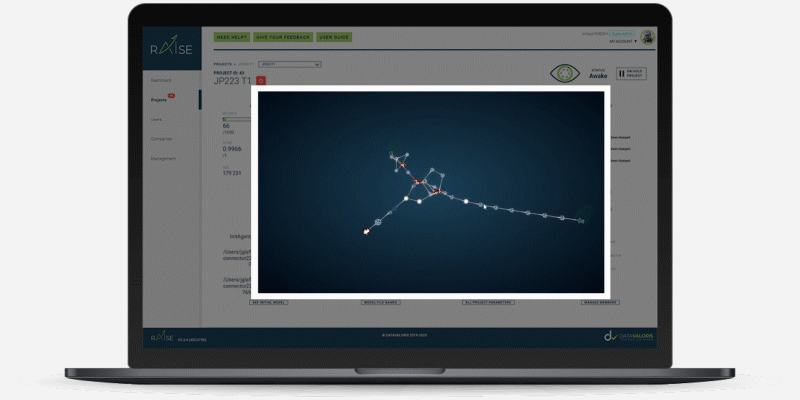 For skilled Enterprise AI Users
For companies already aware of and using AI, RAISE accelerates the performance of existing neural network models. The platform leverages your data scientists' strike force by building even more scalable AI models, allowing them to focus on preparing new models for new projects.
Suitable for all sizes and types of businesses
DATAVALORIS has created 3 packs to support you in setting up an AI project
To help you turn your data into a cohesive AI project
To implement an AI project and create a prototype
To start the production of your prototype and ensure its proper functioning
who is in charge of your ai project?
How about increasing your power hundredfold ?
RAISE increases your power by offering you the best neural network topology with enhanced and original characteristics.
RAISE simulates and automates the operation of applied selection that presides over AI.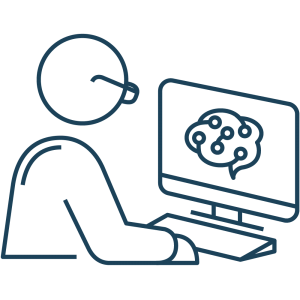 What if your corporate AI projects came to life faster and without additional resources?
The strength of the RAISE platform is to democratize artificial intelligence within companies. This is a scalable model depending on the business constraints you encounter.
If you have an in-house data scientist, Raise can amplify his power by 20. Thanks to RAISE, he is no longer alone ... there are about twenty of them!
If you have no internal resources, our ecosystem of partners and our team of doctors, engineers and architects in artificial intelligence, can support you in your innovative projects to easily implement AI in your business processes and monitor improvement of your productivity.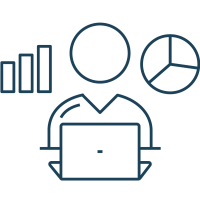 our custommers and use cases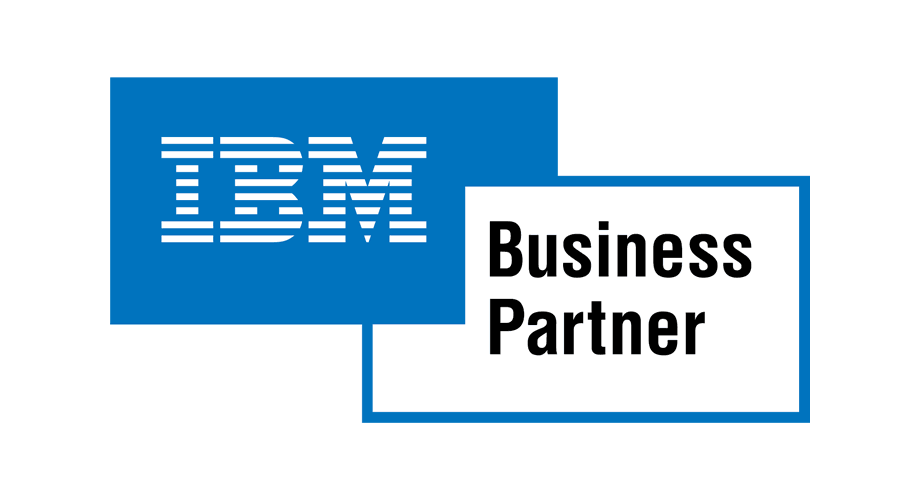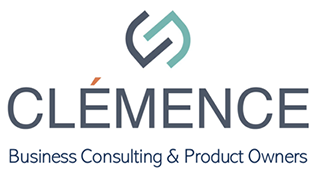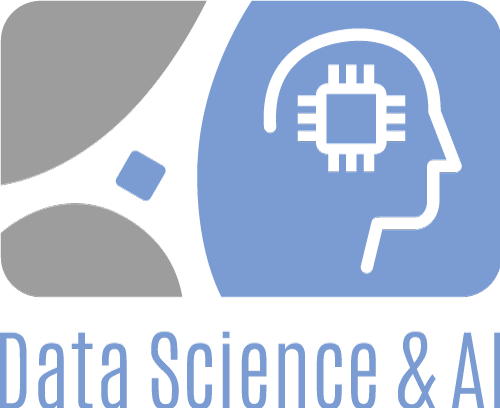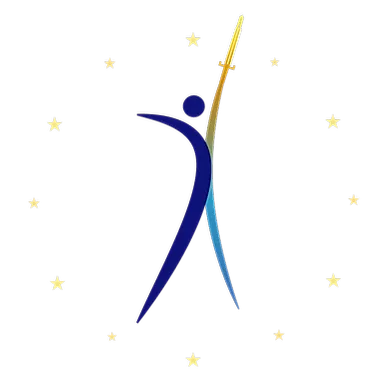 Join our partners and offer your customers unique automated AI generation software